Scaling Up Business: Finding the Capital You Need to Survive the Crisis #SUB7 – Seminar Recap & Webcast Replay Video
In addition to monthly startup showcases, Boston New Technology partners with amazing experts to offer you free and not-for-profit educational seminars, such as this latest webcast for our Scaling Up Business series, with Anthony Price, one of the foremost experts in the U.S. on raising capital for small businesses, from economic-development dollars, incentives, angel investors, crowdfunding, bank programs and more.
Price is the founder and CEO of LootScout, which counsels entrepreneurs how to build a better business and raise capital. He is the author of the must-have book, "Get the Loot and Run: Find Money for Your Business" and the publisher of related mini books (30 minutes of reading that fits in your pocket). This seminar will help you navigate the CARES ACT and other options for your business.
In this seminar, Anthony gives you all the latest actionable information about:
The Paycheck Protection Program (PPP)

SBA Economic Injury Disaster Assistance (EIDA) Loans

State Programs

Grant Opportunities

How to Approach Investors during this uncertain time

Investment Crowdfunding

How to position your business beyond survival

Futuristic tips to grow your business and serve customers
See the bottom of this post for 50+ resources to support your business, working remotely, learning tech skills, and finding a new job.
Expert Speaker: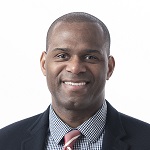 Anthony Price is an entrepreneur at the nexus of entrepreneurship, patient capital and community. He works with businesses across the U.S. Anthony led economic development activities for major cities in Connecticut. His lending experience includes, loan origination, underwriting, servicing, and the workout of nonperforming loans. Anthony developed a deep knowledge of capital, whether it be debt or equity from community development financial institutions (CDFI), small business investment companies (SBIC), the U.S. Small Business Administration (SBA), business development companies (BDC), state, regional, municipal loan funds and equity. He knows how to put together deals for startups and established companies. Anthony has sourced capital from public and private capital sources, including angel investors. He led his own economic development consulting firm and founded LootScout. Anthony's work has been featured on TV, radio, digital platforms, and business publications, including the Hartford Business Journal, Worcester Business Journal, Crain's Connecticut, and Federal Reserve Bank of Boston. Follow at tweet: @LootScout
Seminar Host: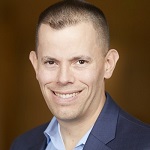 Chris Requena

 - Lead Organizer, Boston New Technology and BDR, CapeStart
Chris is an app/software innovator, business grower, community builder and people connector. Since 2011, Chris has led the tech and startup group, Boston New Technology, growing it into one of the largest in the world. BNT is a network of 14 meetup groups that reach 50k members! BNT startups get extensive publicity and support from the community at monthly events and via BNT's network. Chris works in business development for CapeStart, which offers the best value for enterprise-class software, app and web development services. See CapeStart's free $5k new client offer below. Chris greatly enjoys collaborating with clients and users to design and build innovative solutions that solve problems. Chris also co-founded hubEngage, a platform for employee communication and engagement. Follow @CERequena @BostonNewTech @CapeStart
Brought to you by: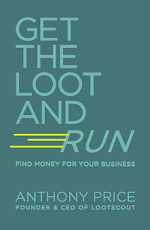 Get the Loot and Run - Whether you're a startup or a billion-dollar business, Get the Loot & Run will show you how to source capital while building an extraordinary business focused on solving problems for customers. Anthony Price distills wisdom from years of hard-earned experience on the front lines of advising companies. This 418-page book is your field manual to slay the capital dragon and free customers from mediocre businesses. The thought-provoking message is simple: Fix your business model and capital will flow. Order your copy today!


LootScout - Our mission is to eliminate small-business failure by creating must-have products, which leads to 100,000 jobs with an economic impact of $1 billion. Our products help people succeed. What's your dream? Our vision is a world where failure has been disrupted and people are free to pursue whatever they want to make the world a better place. Failure is lurking for entrepreneurs, small-business owners, and everyone. But you should never fear trying something new, You must be prepare, train, build, practice, learn. You can do it.
CapeStart offers the best value for robust software and app development services, as well as data preparation services, for machine learning and AI. Our 275+ experts in design, development, testing, DevOps and product support, have delivered and maintained over 125 projects for clients. We specialize in building scalable web and mobile applications, machine learning solutions, ecommerce websites, search engine optimization and online payments. CapeStart is offering $5,000 in free services to new clients! To learn more, contact CapeStart BDR, Chris Requena, at: Chris "at" CapeStart.com
About Scaling Up Business
SUB is a Boston New Technology event series designed to help local businesses grow operations and sales, quickly and effectively, once they have product-market fit. Join founders, managers, executives and consultants to learn strategies, best practices and actionable tactics to drive profitable growth from accomplished experts in a variety of areas, including leadership, sales, marketing, engineering, human resources, finance, operations and law.
We posted official info on Social Distancing, Quarantine, and Isolation, typical virus symptoms and what to do if you experience them, caring for yourself and others, accessing food, and 50+ resources to support your business, working remotely, learning tech skills, and finding a new job.